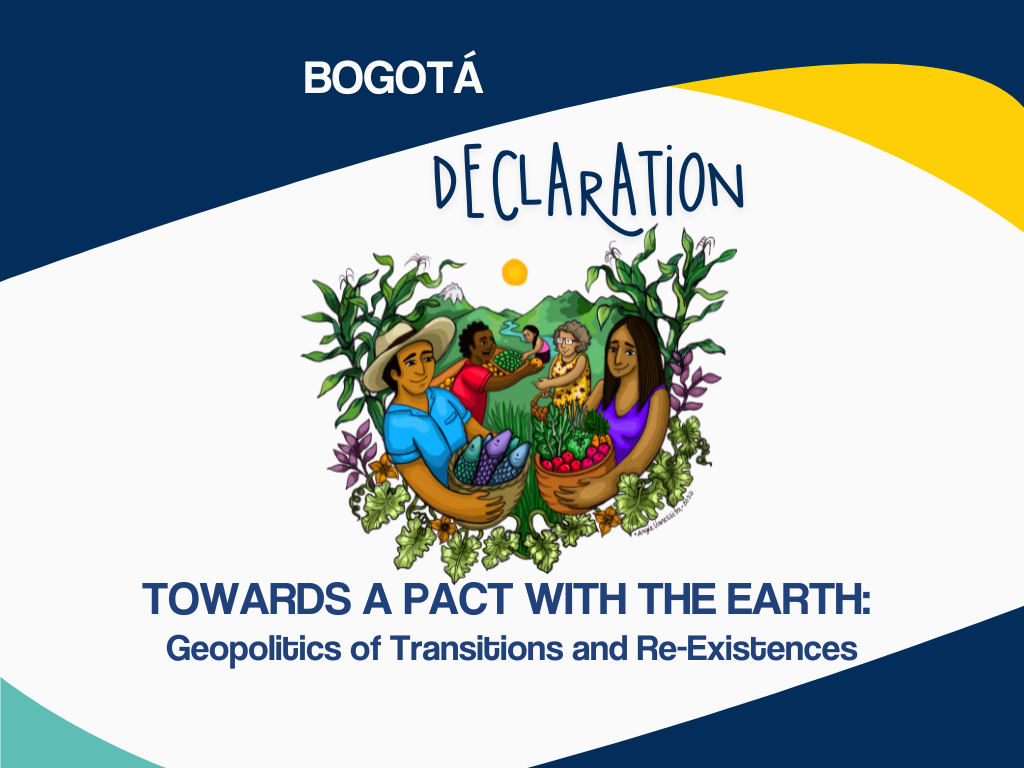 TOWARDS A PACT WITH THE EARTH: Geopolitics of Transitions and Re-Existences
For the past three years, the Pact has been positioning itself at the Latin American regional level, through the creation of different national chapters (Argentina, Colombia, Ecuador and more recently, Brazil, Bolivia, Peru and Venezuela). Likewise, we have been working together with other actors from the global South, as well as with allies from the global North, who express their criticism of the Decarbonization Consensus. From Bogota, in our first face-to-face meeting after the Covid-19 pandemic, as the Ecosocial and Intercultural Pact of the South, we identified with the following principles: Principles of Equality, Justice and Social Redistribution; Principles of Care, Interdependence and Sustainability of Life; Principles of Reparation and Reciprocity; and Principles of Democracy, Self-Determination, Plurinationality, Interculturality and Interspecies Ethics.
Gathered in Bogota in March 2023, from the Ecosocial and Intercultural Pact of the South we have produced the Declaration of Bogota; a document that we share for debate and above all for action for the ecosocial transformations that as peoples we demand: just, popular and that are an alternative to the profound civilizational crisis we are going through.
We propose the need to root the socio-ecological transformation in a logic of global justice, which is both critical and alternative to the hegemonic proposals of ecological transition.
Our bet is to contribute to build a regional and global agenda, oriented towards truly just transitions, which require participation and popular imagination, as well as intersectionality between struggles of different generations and types, social and intercultural, feminist and environmentalist. This undoubtedly poses not only the deepening and debate on all these issues, but also the construction of permanent North-South and South-South political dialogues, on other geopolitical bases, based on a new redefinition of multilateralism in terms of solidarity, reciprocity, equality, interdependence and eco-dependence.
With sensitivity open to the processes of change underway in our region – with bursts of hope and new popular impulses – but also aware of the weight of retrograde and oligarchic forces, from the Ecosocial and Intercultural Pact of the South we will continue to promote protests and proposals, critiques and alternatives, resistances and re-existences in the Pluriverse.
To this end, we take up the relational narratives and horizon concepts that have been forged in recent decades in the heat of the struggles and always placing ourselves at their side: the rights of nature, good living, redistributive justice, care, just transitions, autonomy, post-extractivism, eco-territorial feminisms, food sovereignty and autonomy.
We do not defend just any Pact. Ours is not the hegemonic Green Pact of agreements and deals among the usual, but a Pact with the earth, from the South and for the South. A Pact understood as a commitment to other ways of being and being with and in the world.
READ IT: